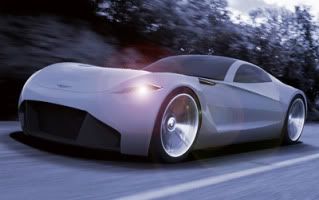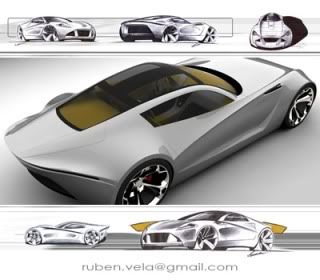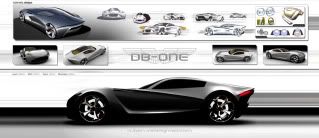 Designer : Ruben Vela
An extreme Aston Martin concept with classical proportions combined with ultramodern surfaces resulting in a fresh vehicle which also represents the traditions associated with Aston Martin.
While designing, Vela took these essential elements in Aston Martin :
large front grille
long bonnet
side vents
And the result he created a car with an immense sense of movement, based around the idea of tension - beginning with the grille and moving back towards the rear of the car.
550 horsepower
6.0 litre
V12 engine
"Cars aren't static objects, so I believe it's important to show dynamism in the design. And this is much more important when you are designing a super-sports car," says Vela.
The rear of the Aston Martin DB-ONE concept is extremely clean due to the small gap in the tail which hides the taillights and a rear diffuser provides a neat finish to the design.
Although the Aston Martin DB-ONE is an independent design created outside the company and exists only on a computer and as a scale model, Aston Martin's new owners, Prodrive, could certainly take note of a few styling ideas introduced by Vela on the DB-ONE concept.
Here's a video he uploaded on Youtube :