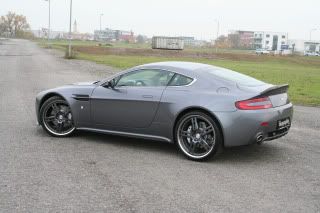 Landau.
What the hell is Landau?
Who the hell is Landau?
When people hear the name of Landau, it is usually associated with the English Gentleman's luxury horse drawn carriage which were manufactured originally in the 1700's in the Rheinland-Pfalz town of Landau.
Today the Landau based company Cargraphic GmbH is still involved with luxury carriages, but carriages of a slightly different nature and with considerably more horse power.
Thomas & Michael Schnarr, the Directors and founders of Cargraphic, internationally known for their involvement with Race and Performance Porsches have now included Aston Martin in their pedigree stable.
The enhancements they did was :
i) Increased power from 313KW/426PS to 342KW/466PS + 32 Nm more torque.
- a Cargraphic 200 cells sports catalytic kit
- a Cargraphic stainless steel Sports rear silencer and laser cut heat shield
ii) The exhaust note is also transformed to give a spine chilling note as if played on a finely tuned instrument.
- These systems ONLY manufactured in Cargraphic's own exhaust factory in England.
iii) Tailored-made stylish yet effective Carbon body kit :
- front spoiler lip
- rear spoiler and diffuser
- side skirts
- mirror housing set
- which all fit as if made by a London Gentleman's Saville Row tailor.
iv) Suspension has been set up and lowered by 20mm and was developed with the help of computer simulation and the legendary Hockenheimring.
v) Light weight Cargraphic 3 piece " I-10" wheels available in 19",20" or 21" to the Cargraphic GTR wheel or the Cargraphic Sport classic design.
vi) There is also a nearly unlimited choice of colours, ranging from the
Grey tone "Casino Royale"
which is in great demand at present to the
bright red of a London Route Master Bus
, the choice is unlimited.
As the original "Landauer" horse carriage is a convertible, all these refinements are also available for the Aston Martin V8 Cabriolet.