Introducing SHOCKWAVE

- World's Fastest Truck.
- 36,000 HP
- use triple (3) Pratt & Whitney J34-48 jet-engine. U.S. Navy's T2A Buckeye plane use this engine.
- the power of 36 Bugatti Veyron. (1001 bhp X 36)
- 260-in­ch (660-cm) wheelbase.
- 376 miles per hour (605 kph). That's pretty fast !! The Speed Of Sound !!
- The engines are arranged in a pyramid formation, tilted at a three-degree angle to help keep the 6,800-pound (3,084 kg) truck on the ground. See images below.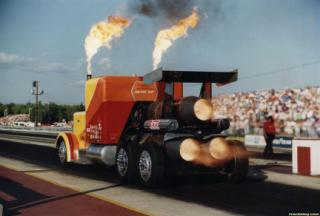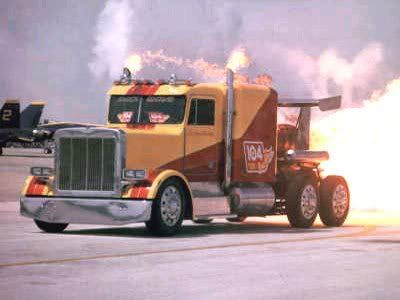 - 19,000 pounds of static thrust.
- The outlet of the engine is fitted with a special fuel line that carries raw diesel fuel to a ring-like burner inside the outlet.
- This dumping of raw diesel fuel into the burner creates flames and smoke that make for some very special effects.
- The front of the truck is the only stock part, an original 1985 Peterbilt cab. See image below.
- The familiar twin vertical chrome exhaust stacks are modified with piezoelectric ignitors for lighting the raw diesel fuel to produce flames. See image below.
- This truck consumes 400 gallons per mile during a race.
- If the afterburner mode is used, the fuel is consumed even faster.
- conventional truck tires. 85 pounds of tread shaved off each one to reduce the weight (mass) of the tire and to keep the tread from separating and flying off when traveling at 300 mph.
- All-wheel, large-diameter disc brakes are used on each wheel. See image below.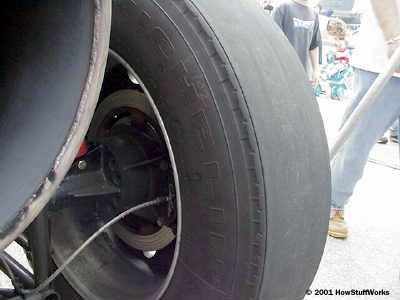 the jet engine is on the left.
Still not convinced? See the video below.
Man, another noise, air pollution. When is global warming gonna end?