We all know Jay Leno is a car freak. His garage, the size of a warehouse full of rare cars. Recently, his collaboration between General Motors has produced a beautiful outcome.

Here's a little imagination of mine of the conversation between Jay Leno and General Motors.

Jay Leno : GM, since I got so many rare cars in my garage, I was thinking of having an another innovative car. Any ideas?
General Motors : Hmm, sounds like an opportunity for me to build another one and "spoil" the market with this little creative idea of mine. How about a car that run on biodiesel fuel?
JL : Hmm, sounds great to me. And what kind of engine do you suggest?
GM : How about gas turbine? Because most of the engines nowadays are piston engines. I think it's kinda rare to see a car runs on that.
JL : Any prospective brand?
GM : How about Honeywell LT 101 gas turbine?
JL : Hmm.. ok. I want my car to be built NOT only for show purposes, but meant to be driven on the road too. Can you do that for me?
GM : Sure, why not.



Run on

biodiesel fuel

by using a

Honeywell LT 101 gas turbine

instead of a piston engine.
Honeywell LT 101 gas turbine engine. Produces

650 hp

. At

full throttle

.

Introducing :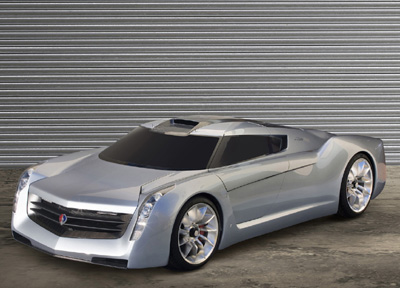 GM EcoJet Concept

2 separate gas tanks - i) Contains main fuel -

biodiesel soya bean oil
ii) Contains

traditional clean burning jet engine fuel

-

JP-4

- to start the turbine and run
the engine at the end of the trip to clean it
Biodiesel fuel tends to gum up a turbine. That's why JP-4 jet engine fuel exist there, to clean it.
The exhaust air :

1000

degrees Fahrenheit (

normal operation

)
1800

Fahrenheit (

full power

)
When you cook French fries, the smell of the cooking is basically the same as the smell produced by this fuel.
Inspirations from

F1 cars

and

modern aircraft

.
Constructed from

Kevlar

and

carbon fibre

.

- Azentek PC running Microsoft Windows Vista
- two LCD screens on the dashboard
i) one for the gauge cluster and
ii) another for the media and navigation controls
- standard PC functions such as word processing and Web access through a Wimax system.
- the car has NO rear view mirrors, using 2 smaller LCD screens on the dashboard to provide rear views instead, operated by cameras.
- Touchscreen / Speech recognition software using a multiple microphone array.
Since the main theme of this car is all about turbine, GM assigned Alcoa company to create a custom-made 22 " rim turbine style for the rear and 20 " for the front.


The car was assembled by the Big Dog crew for Jay Leno.